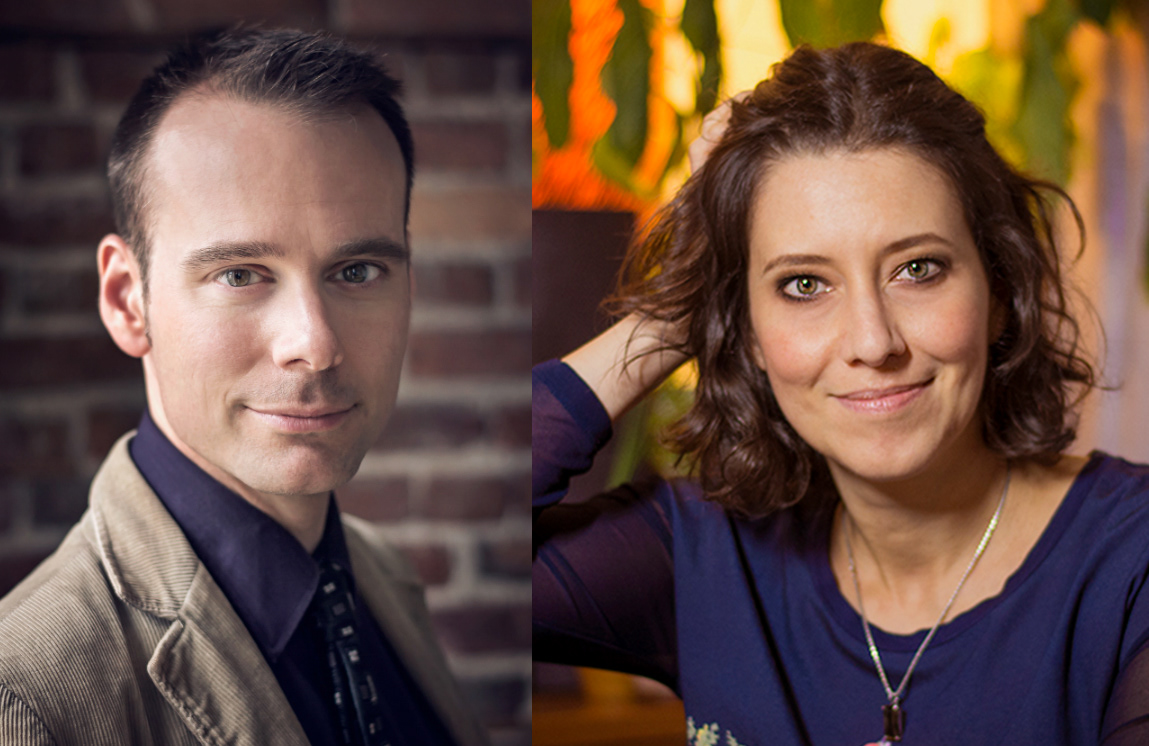 Silmara and Curtis are both partners in life and projects. They are married and live in Vancouver with their son George.
Silmara is a multitalented visual artist, Graphic Designer and Photographer, Curtis is a teacher and writer. They are both Geminis and share, among many other things, the tendency to dream up ideas for projects and to work on a half dozen of them simultaneously, together or separately.
Because of the urge to make art, create and match up their talents as well as learn from one another, they started The Orange Lamphouse Studio. Not only does the studio provide them with an useful, colourful umbrella with which to group together their many ideas and projects, it also lets them expand their range of services to clients by combining the strongest of their respective skills and points of view.
Their mission is to tell stories inspired by and to inspire their little portion of the world, in their our own unique way.
They also realized that their abilities complement each other in ways that add to the quality of their work and make clients much happier. As a couple, they are always on top of ideas, clear with communication, on the ball with deadlines, mindful of quality and, not least, ready to have fun together. They work with light hearts, flexibility, and always with determination but still with smiles on their faces.
They share a love for the retro and the vintage, such as vinyl LPs, rotary phones, typewriters, snail mail letters and can't resist antique and thrift stores.
GOOD WORDS
"My son and I had the most wonderful experience having our photographs taken with Silmara. As someone who doesn't like having their photo taken, I was very nervous about how it would go. But Silmara is incredibly warm, with a natural ability to put you at ease, to the point that we even forgot we were having our photos taken! This meant she was able to capture the most intimate of moments between my son and I. She also has an incredible eye for creating pictures that are both stylish and unique. I feel so grateful for this experience, and will treasure my photos forever."
Megan Czerpak, mother
"Having my portrait taken by Silmara was a wonderful experience. During the photo shoot, she quickly put me at ease with her warm demeanor. Throughout, she gave me clear instructions which made me feel less awkward, which shows in the final product. I was super happy with the final prints which she delivered to me promptly. Thank you Silmara!"
Nicky Waring, Sexual Health and Relationship Educator
"Fantastic! Beyond my expectations!"
"It's been a wild ride! Everyone talks about your cover. You are amazing."
"You continue to astound me!"
Jordan Schroeder, book author


"Silmara, I am very happy with the headshots you took for me and you were a delight to work with. I appreciate the care, patience and professionalism you showed throughout the process to ensure that I would be happy with the final product. You did a fine job!"
Atley Morrow, actor


"The team at 'The Orange Lamphouse Studio' is outstanding. It comprises Silmara Emde, photographer and graphic designer, and her husband Curtis Emde, teacher, writer, and video editor. Both of them love storytelling through sound and vision. When we began planning a video to promote my book, 'Trust the Mystery: Questions, Quotes, and Quantum Wisdom', I found their process very creative: it was sufficiently flexible that it allowed me to respond with new ideas that might not have surfaced otherwise.
Both Silmara and Curtis are calm, patient, and very clear about the plan, while also staying open to new ideas in the moment. Their personal and professional skills complement each other perfectly."
Nina Shoroplova, author of Trust the Mystery: Questions, Quotes, and Quantum Wisdom.